K9 Training Leash – 5ft.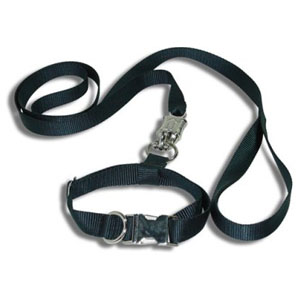 K-9 Training Leashes and Collars come in two separate straps. One strap is made for the collar and the other for the leash. The collar part strap utilizes a metal buckle, with the female part sewn to one end and the male part sewn to the other end, making it easy to get the collar on and off of your pet.
The leash part strap utilizes a Heavy Duty Panic Snap, sewn onto one end of the strap and a loop for a handle sewn onto the other end of the strap. The Heavy Duty Panic Snap connects to the collar part. THESE ARE AVAILABLE IN BLACK OR DARK GREEN ONLY...
//******//